INFORMATION
Centre de la photographie Genève
Bâtiment d'Art Contemporain
28, Rue des Bains
CH – 1205 Genève
 
+41 22 329 28 35
cpg@centrephotogeneve.ch

Instagram
Facebook 
 
OPENING HOURS
Mardi – Dimanche
11H – 18H

FEES OSMOSCOSMOS
Normal
5 CHF

Reduced *
3 CHF

Free **
Free the first Sunday of the month!


* AVS, AI, students, apprentices, artists, Card "20 ans/20 francs" and groups of 10.
** Under 18 years old; members of the Centre de la photographie Genève, the Amamco, the Centre d'Art Contemporain; specialized students (photography, art history, fine arts, decorative arts) and journalists.
SPONSORS AND PARTNERS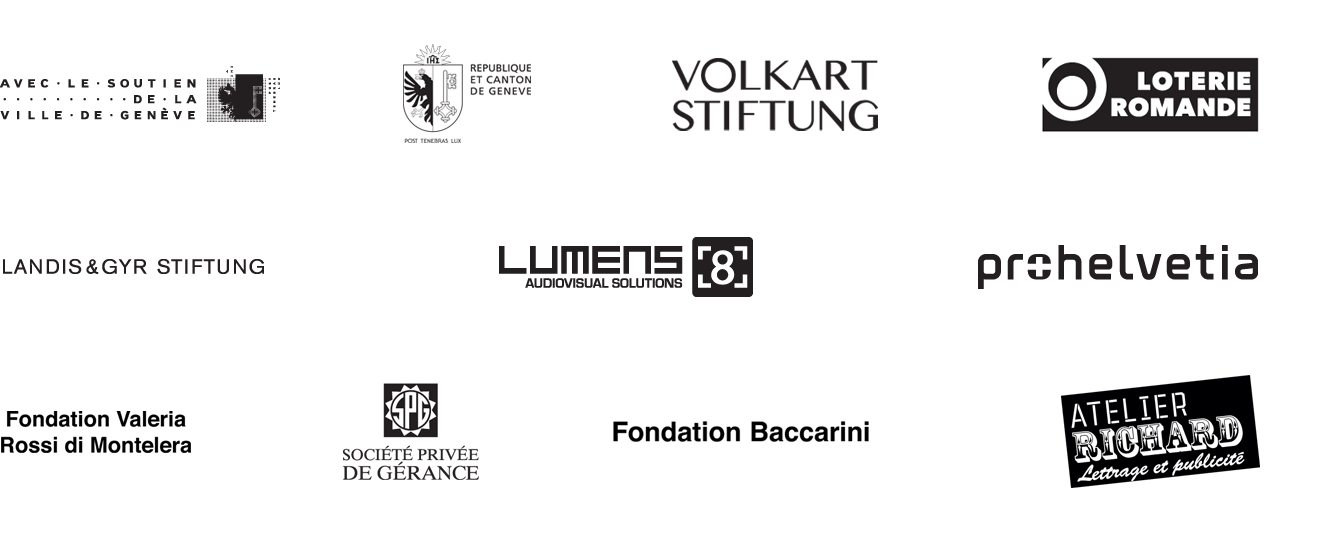 TEAM
Curator
Joerg Bader
 
Co-curator
Alexandra Schüssler
 
Coordination
Stephan Graf, Ella Nsingi, Natalia Reichert
 
Administration
Alexandra Theiler
 
Technique
Vanessa Bianchini, Alexandre Bianchini, Grégory Boutière, Jérémy Chevalier, Mickaël Lianza, Polina Soldatova, Christophe Turchi, Carlo Vanni
 
Surveillance
Tumezghi Berhane, Marco Dos Santos Oliveira, José Goncalves Fernandes, Brayam Herrera Ramos, Lucas Lazzarotto, Daniel Nughes
 
Parallel programme coordination
Stephan Graf
 
Communications
Natalia Reichert
 
Web programming
Manuel Monnin solutionweb.ch
 
Concept & Graphic Design
Nask, Geneva
IMPRESSUM
© 2019 for the texts: The authors
 
Every effort has been made to contact copyright holders.
Any copyright holders we have been unable to reach or to whom inaccurate acknowledgment has been made are invited to contact the Centre de la photographie Genève.
 
The Centre la de photographie Genève would like to thank all the artists and their assistants gallery owners and partner institutions for their generous collaboration.
 
Special thanks to:
Dora Aceto
Mathilde Acevedo
Simona Alina Andone 
Federica Angelucci
Soizic Audouard
Melanie J. Auerbach 
Sylvia Bandi
Giovanni Barbarisi
Marc Barbey
Thierry Barbier-Mueller 
Lisa Baroni
Mabe Bethônico
Maria Brassel
Serge Buffard
Gisela Capitain
Olivier Christinat
Clarisse Colliard
Bob Coppens
Chantal Crousel
Martine Dancer
Filipe Dos Santos
Marco Domingues 
Christophe Domino 
Nathalie Ferrando
Fulvio Ferrari
Lisa Franzen
Linda Fregni-Nagler 
Bettina Frenzel
Julien Fronsacq 
Christophe Gallois 
Charles Ganz
David Gaud
Gabrielle Giattino 
Marie-Laure Gilles
Victor Gisler
Vincent Hänni
Julie Henoch
Henri-Pierre Jacob
Valérie Jaquinet
Philippe Hess
Peter-Frank Heuseveldt 
Friedl Kubelka vom Gröller 
Max Kühl
Anne Lamunière
Antoine Laurent
Fabienne Leclerc
Nicolas Lieber
Weston Lowe
Leticia Antunes Maciel
Marcos Mariño
Nikki Diana Marquardt 
Roger Mayou
Karl McCool
Anton Meier
Philippe Meylan
Christelle Michel
Vita Mikhailov
Mauricio Estrada Muñoz 
Sacha Nacinovic
Skander Najar
Alex Nelson
Henrikke Nielsen
Marc Payot
Aldo E. Ponis
Frédéric Post
Laurent Quénéhen
Eléa Rochat
François Ronsiaux
Emily Rothrum
Denis Roueche
Christoph Schifferli
Nina Schneider
Daniel Siemaszko
Dirk Snauwaert
Jules Spinatsch 
Alfredo Srour 
Gregor Staiger 
Nina Steinmüller 
Toni Stooss 
Carol Tachdjian
Giulia Vandelli 
Gilles Verneret 
Jordi Vidal 
Nadia Vincenot 
Bernard Vischer 
Nam Vo
Boris Wastiau
Mira Zawrzykraj 
Nadja Zimmermann 
Urs Ziswiler
Mara Züst
 

Archivio Elisabetta Catalano 
Bureau (New York)
Collection Jean Pigozzi
Collection Regard
Collezione Anna Lisa Baroni Frittelli (Florence) 
Collège et École de Commerce André-Chavanne
Deborah Schamoni Galerie 
Eames Office 
École de Commerce Nicolas-Bouvier 
Electronic Arts Intermix (EAI) 
Galerie Anton Meier
Galerie Chantal Crousel (Paris) 
Galerie Croy Nielsen (Vienne) 
Galerie Gisela Capitain (Köln) 
Galerie Gregor Staiger 
Galerie Guido W. Baudach 
Galerie Hans Mayer 
Galerie In Situ (Paris)
Galerie Jean Brolly
Galerie Silvia Steinek
Galerie Skopia (Genève) 
Galerie Tanja Wagner (Berlin) 
GraphicArt 
Hauser & Wirth
Le Box
Magnum Photos
Mai 36 Galerie (Zürich) MAMCO 
Motel Campo
Musée d'art et d'histoire
Musée d'ethnographie de Genève Musée international de la Croix-Rouge et du Croissant-Rouge
Museo Casa Mollino
Le Musée Olympique
Nask
Panoramaherberge Alpenhof & Bibliothek Andreas Züst
Richard Saltoun Gallery (London) 
Cinéma Spoutnik (Genève)
Stevenson Gallery (Capetown South-Africa)
Studio Fabio Mauri
Suzanne Tarasieve Gallery (Paris)
The Estate of Lee Lozano
WIELS Contemporary Art Centre
 

and all the locations that are hosting us.